Flash Movie Player help - Playlist editor
Playlist editor
You can compose your flash movies to playlists, and save and load them using Playlist Editor. To show Playlist Editor, click the menu command View - Playlist Editor or corresponding button

Playlist editor.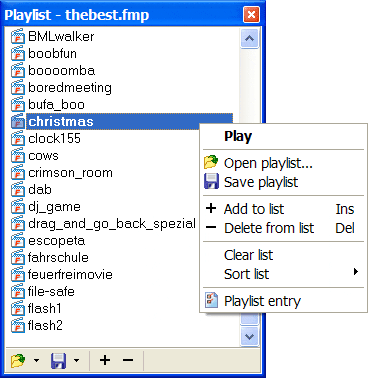 Playlist editor window allows you to

add files to playlist,

delete them from playlist,

save and
load playlist files.
Context menu of Playlist Editor also has commands:
Clear list
Clears list contents
Sort list
Allows to perform sorting for entries in playlist. Sort modes are:

Sort by title. Sorting goes on entry titles (by default it is the same as the filename without extension).
Sort by filename. Sorting performed on filenames.
Sort by path and filename. Full paths considered when comparing.
Sort by filesize. Sorts by filesizes.
Reverse list. Reverses Playlist contents.

Playlist entry
Invokes playlist entry dialog, where you can supply the name for the current entry (different from filename), or to rename the filename.
You can drag files from the Windows Explorer and drop it to the Playlist Editor window to fill playlist instead of using "Add to list" command.
« Previous : Flash Movie Player main window Help contents Next page : Flash Movie Player options »
Copyright © 2005-2023 Eolsoft. All rights reserved.