Flash Movie Player help - user manual and tips
Flash Movie Player is a free stand-alone player for ShockWave Flash (SWF) animations, based on the Macromedia Flash Player plugin. In addition to all Macromedia Flash Player abilities, it has some extended features, such as animation rewinding, advanced full screen mode, playlists, browser cache integration and exe projectors support.
Program overview
When you first start Flash Movie Player, you'll notice that the program has standard compact disc player interface. There are several major components of the program window:
Main menu. Contains all commands, provided by player.
Movie clip area. Displays the flash animation of the file that is playing.
Seek bar. Indicates the current position of animation clip. You can drag the slider to adjust movie position.
Playback controls bar. Contains Play, Pause, Stop, Previous movie, Next movie, Playlist editor commands.
Playlist editor. Player has integrated playlist that can be left or right aligned, or floating.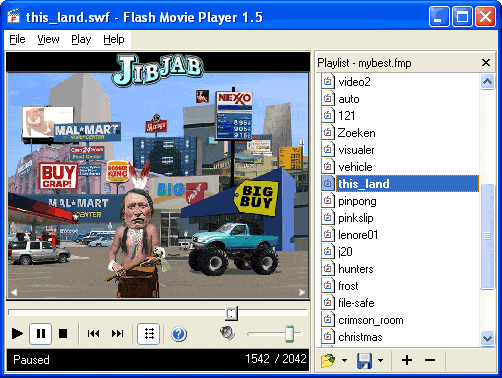 Menu commands
File menu commands
Open
To play flash animation, exe projector or playlist in the player, click the File menu, click Open and then select a file to be played. In playing mode you can use all control bar buttons : Pause to pause movie, Stop to stop movie, and so on.
Open from web
Allows to open flash animation from the web. Type the Internet address of flash animation in the prompt window and the player will open it.
Save As...
If you have movie loaded into the player, you can save it in SWF format. Click File - Save As... and select the destination file. With the help of Save As... command you can extract and save SWF files from the EXE projectors.
Close
Closes the current movie clip.
Browser cache to playlist
By this command player will seek for flash files in the browser cache and add it to the playlist. Has sub commands for different browsers:

Internet Explorer
Mozilla Firefox
Opera

Exit
Exits the program.
View menu commands
Commands placed in the View menu intended for switching view modes, setting quality and zoom parameters.
Full screen
To display animation in entire screen, click View - Full screen. To return back to the window mode, press the Escape key (ESC).
Quality
You can change quality of movie display, using commands Low, Medium, High in View - Quality menu.
Zoom
To change zoom of movie clip, use submenu Zoom in View menu.
Playlist editor
Shows/hides Playlist Editor window.
Playlist layout
Allows to set up layout of the playlist editor. Possible choises are: left, right and floating.
Scale
There are several commands for changing the scale of the movie:

Show All. Show all (default) makes the entire movie visible in the specified area without distortion, while maintaining the original aspect ratio of the movie. Borders may appear on two sides of the movie.
No border. No Border scales the movie to fill the specified area, without distortion but possibly with some cropping, while maintaining the original aspect ratio of the movie.
Exact fit. Exact Fit makes the entire movie visible in the specified area without trying to preserve the original aspect ratio. Distortion may occur.
No scale. Movie displays in its original size.

Always on Top
Puts Flash Movie Player on top of other windows.
Options...
Invokes the Options dialog. In Options window you can change association for swf files, set up the Open options (open new movie in new window, or open it in the same window).
Play menu commands
Commands in Play used for controlling playing process.
Play/Pause
Toggle movie playing/paused mode.
Stop
Stops playing of current movie.
Previous movie Play previous movie in playlist (skip back).
Next movie Play next movie in playlist (skip forward).
Rewind 1 frame
Skip back 1 frame of movie.
Forward 1 frame
Skip forward 1 frame of movie.
Rewind 20 frames
Skip back 20 frames of movie.
Forward 20 frames
Skip forward 20 frames of movie.
Game mode
Check this command to disable all shortcuts oftenly used in flash games (Left and Right arrows, Enter and Space).
Repeat
Check the Repeat command to play a animation file repeatedly, or uncheck it to play movie without repeating.
Help menu commands
Online Help
Shows this help.
Check for Player upgrades
Examines Flash Movie Player player website for upgrades and checks if newer version of player is available.
About Flash Movie Player
Invokes the "About program" dialog.
Copyright © 2005-2023 Eolsoft. All rights reserved.