Registry Jumper
Registry Jumper is a small utility that makes system registry navigation easier. This tool allows you to open desired registry keys in Windows® Regedit by one click. Works in two modes: GUI mode and command-line mode (opens the registry key supplied as a command-line parameter). Additionally, Registry Jumper handles the "regjump://" custom protocol, which, for example, can be used in links in HTML pages to point to specific registry locations.
Registry Jumper advantages
Registry Jumper is absolutely free - no nag screens, no ads, no spyware, no time limit.
The executable has small size (~ 50 KB) and low system requirements.
Using "regjump://" protocol handler, provided by Registry Jumper, you can maintain your registry favorites and tips-n-tricks in HTML format (view sample page).

Attention webmasters, maintaining sites, related to Windows® registry: for accessibility you can embed "regjump://" links to your site and recommend Registry Jumper for your visitors.

The Favorites allows you to access the most important registry keys immediately. You can organize, export to HTML your registry favorites.
Supports both full and short root registry key names (for example, HKEY_LOCAL_MACHINE and HKLM, full list below)
Trailing and leading spaces, brackets, quotes, double slashes are trimmed, so registry paths like ['HKLM\\Software\Microsoft\Windows\CurrentVersion\Run'] are not a problem.
All recent opened registry keys are saved.
Screenshot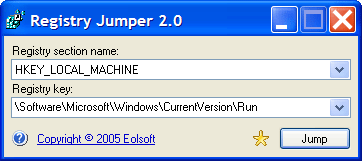 System Requirements
Windows operating system: Windows 95/98/ME, Windows NT, Windows 2000 or Windows XP.
Download
Current version is 2.0 (last update: 20 July 2005).
You can download the latest version of Registry Jumper from our download page.
Disclaimer
The software is provided "AS IS" without any warranty, either expressed or implied, including, but not limited to, the implied warranties of merchantability and fitness for a particular purpose. The author will not be liable for any special, incidental, consequential or indirect damages due to loss of data or any other reason. You are welcome to use this software without paying any kind of fee.
Other information
Short root key names supported :
HKLM = HKEY_LOCAL_MACHINE
HKCU = HKEY_CURRENT_USER
HKCR = HKEY_CLASSES_ROOT
HKU = HKEY_USERS
HCC = HKEY_CURRENT_CONFIG
P.S. No animals were harmed in the making of this software.
Feedback
If you have any problem, suggestion, comment, or found a bug, you can post your message at
our feedback page
.
Also, check out our
Registry Jumper and Regedit FAQ
.
Registry Jumper Version History
If you like this program, please, Link to us
If you want to say something about Registry Jumper to other people, your comment and vote at Download.com Registry Jumper page will be highly appreciated.
Copyright © 2005-2022 Eolsoft. All rights reserved.