Only quality software from Eolsoft
Our software
Bothered by this strange e-mail attachments like winmail.dat, at00001.dat? Here is the tool that can show their contents without asking the sender to re-send e-mail in other format. Freeware, small and handy - Winmail Opener. More about Winmail Opener »
Have a collection of flash movies or cartoons? Want to play SWF files, flash exe projectors in standalone player with advanced capabilities such as rewinding, full screen mode and play lists? Free and small, Flash Movie Player is for you! More about Flash Movie Player »
Have you ever been tired of navigating Windows registry to perform just another tip or tweak for your system? Basta! With Registry Jumper, you will only need to enter or paste your registry path, hit "Jump", and the program will navigate registry editor RegEdit to the desired key. Registry Jumper is small and completely free. Moreover, Registry Jumper saves each path for later use, supports command-line launching and can handle custom protocol calls (regjump://) to launch RegEdit from URLs. More about Registry Jumper »
News
10 June 2021
At long last, the new version of Flash Movie Player is out!
We haven't updated our Flash Movie Player since 2008. A lot's happened since then, including the notorious Adobe Flash Player
End Of Life
. We found the workaround and pleased to introduce you the updated
Flash Movie Player 2.0
.
15 March 2021
New version of Winmail Opener released
After a long break, we are back with the updated version of
Winmail Opener
! Fixed issues with running as administrator and crash when DEP was enabled. In addition, the application menu design has been improved.
16 November 2017
Download.com statistics snapshot
Just for reference, here is our software download statistics from Download.com, which is our main, but not the only download location: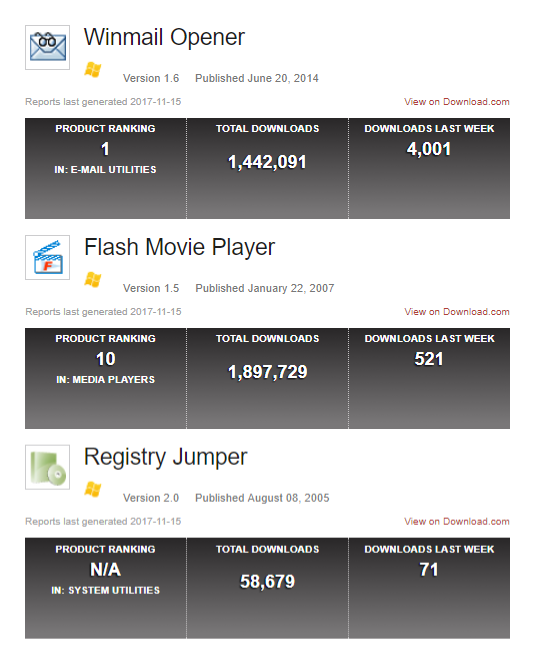 28 May 2017
Winmail Opener updated
Exe packer updated, which should prevent DEP false positives in the latest versions of Windows.
25 May 2014
Winmail Opener 1.6
Winmail Opener 1.6 has fixed hanging on some kinds of files and improved attachments extracting algorithm.
21 October 2012
Winmail Opener 1.5
Winmail Opener 1.5 features some minor improvements, more languages and silent uninstall option.
01 April 2008
Winmail Opener 1.4 released.
Some bugs fixed, multilanguage support added.
14 October 2007
Winmail Opener 1.3 released!
We've made some tweaks and bugfixes, check them out:
Changes list
.
19 November 2006
Winmail Opener 1.2 released.
Added ability to save rtf message while working in command-line (silent) mode.
Winmail Opener homepage.
30 May 2006
Winmail Opener 1.1 released.
Some improvements made, some bugs fixed.
09 March 2006
Flash Movie Player 1.4 released!
Fixed some bugs, added snapshoting functionality.
Whatsnew?
.
27 December 2005
Flash Movie Player 1.3 released!
New release of our freeware swf player Flash Movie Player. Firefox & Opera cache support, revised playlists and
other enhancements
.
02 December 2005
Winmail Opener 1.0 released.
Winmail Opener is a small and simple utility that allows you to view and extract contents of TNEF-encoded messages (infamous winmail.dat). That means if you receive winmail.dat on your e-mail, with Winmail Opener you can view the rich text message contents and attachments embedded into this file.
28 September 2005
Flash Movie Player 1.2 released.
Fixed some bugs, background movie color setting added; now player restores fullscreen if it was closed in fullscreen mode during the last launch.
05 August 2005
Flash Movie Player 1.0 released.
Our freeware standalone SFW movie player released. Rewinding, EXE projectors support, playlists, enhanced fullscreen mode and more…
Flash Movie Player page…
20 July 2005
New version of Registry Jumper released.
Registry Jumper 2.0 is available for download. Added Favorites support (Quick launch from favorites, Add to favorites, Organize favorites, Export favorites list to HTML format). Now you can get access to your important registry locations in several clicks! Installer support.
What's new?
More about Registry Jumper..
13 May 2005
Flash Movie Player 1.0 Beta released.
Flash Movie Player is a free stand-alone player for ShockWave Flash (SWF) animations, based on Macromedia Flash Player plug-in. In addition to all Macromedia Flash Player abilities, it has some extended features, such as animation rewinding, advanced full screen mode, exe projectors support and play lists.
More about Flash Movie Player..
14 April 2005
Registry Jumper 1.0 released.
Registry Jumper is a small freeware utility that makes system registry navigation easier. This tool allows you to open desired registry keys in Windows® Regedit by one click. Works in two modes: GUI mode (graphical interface) and command-line mode (open registry key supplied as command-line parameter). Additionally, Registry Jumper handles the "regjump://" custom protocol, which, for example, can be used in links in HTML pages to point to specific registry locations.
More about Registry Jumper..
Copyright © 2005-2023 Eolsoft. All rights reserved.