Winmail Opener
Winmail Opener is a small and simple utility that allows you to view and extract contents of TNEF-encoded messages (infamous winmail.dat). If you receive winmail.dat files in your e-mail, you can view the rich text message contents and attachments embedded into these files with Winmail Opener.
You may receive winmail.dat files from the senders who are using Microsoft Outlook (97, 2000, 2013 and so on). These files contain all the attachments and message text, and not all e-mail clients can recognize their format. Winmail Opener is the solution.
Program features
Winmail Opener is absolutely free - no nag screens, no ads, no spyware, no time limit.
It supports rich message text (RTF) extraction.
You can drag and drop TNEF-encoded files into Winmail Opener to open them.
You can drag and drop decoded attachments from Winmail Opener to any location to save them.
Allows to operate with embedded attachments via standard system popup menu commands (Open, Open with, Copy, etc.)
Supports command line mode for batch decoding.
Multilingual interface (21 languages supported at the moment).
The executable has a small size and low system requirements.
Screenshot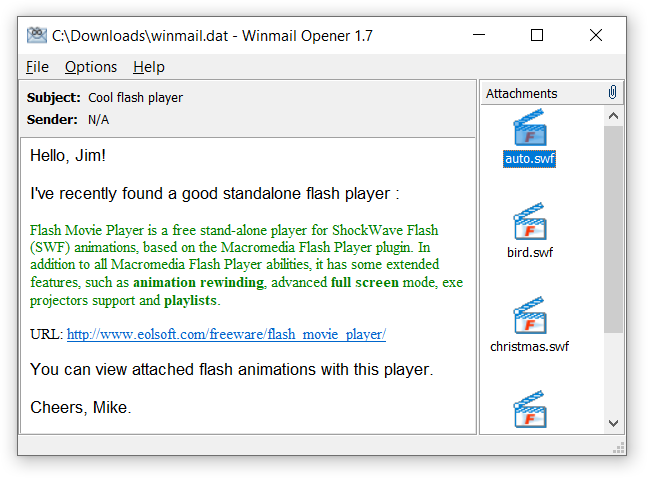 System Requirements
Windows operating system: Windows 10, Windows 8, Windows 7, Windows Vista, or even older (including Windows XP, Windows 95/98/ME, Windows NT, Windows 2000).
Download
The current version is 1.7 (last update: 16 March 2021). What's new?
You can download the latest version of Winmail Opener from our download page.
Command line switches
To open a specific file in Winmail Opener use the following syntax:
wmopener.exe c:\path_to_file\winmail.dat
To decode a specific file and save its attachments to the dedicated folder without viewing it use the following syntax:
wmopener.exe c:\path_to_file\winmail.dat c:\decoded
If a specified directory does not exist, it will be created.
If the path to Winmail Opener or file to open contains spaces, use double quotes:
"c:\Program Files\Winmail Opener\wmopener.exe" "c:\My Mail\winmail.dat"
FAQ:
Is it possible to use wildcards in batch operations?
Localization
Winmail Opener has been translated into 21 languages (in the order of appearance):
English
French
Russian
Czech
Dutch
German
Slovak
Polish
Italian
Spanish
Chinese traditional
Japanese
Hungarian
Romanian
Swedish
Norwegian
Danish
Turkish
Korean
Chinese simplified
Greek
Ukrainian
Localization instructions are the same as described in the Flash Movie Player translation guide and are included in the file /languages/readme.txt located in the Winmail Opener folder. Feel free to translate Winmail Opener into your language and send us the translation!
Every translator name from language files goes to the "Credits" section of the About box automatically.
Information for Outlook Express users
Outlook Express does not display any message attachments if a TNEF-encoded file (winmail.dat) was received. If you are expecting some attachment, but do not see any, it still can be there.
To decode such a message perform the following steps:
Save the whole e-mail message to an *.EML file via File, Save As, or Drag-and-drop.
Open the *.EML file in a text editor such as Wordpad or Notepad.
Locate the line Content-Type: application/ms-tnef; and change the Content subtype to something else, such as Content-Type: application/zzz;
Locate the line name="winmail.dat" and change to name="winmail.tnf". You may change the winmail part as well, if desired.
Save the *.EML file from the text editor.
Double-click the *.EML file from the Windows File Explorer. This will open the message in a mail window and the TNEF attachment should now be available for saving.
Drag the saved attachment into the Winmail Opener program. Decoded attachments will then be there and can be dragged or opened.
Disclaimer
The software is provided "AS IS" without any warranty, either expressed or implied, including, but not limited to, the implied warranties of merchantability and fitness for a particular purpose. The author will not be liable for any special, incidental, consequential, or indirect damages due to loss of data or any other reason. You are welcome to use this software without paying any kind of fee.
Other Information
P.S. No animals were harmed in the making of this software.
Feedback
If you have any problem, suggestion, comment, or find a bug, you can post your message on
our feedback page
.
If you like this program, please suggest it to a friend or link to us.
Copyright © 2005-2023 Eolsoft. All rights reserved.